American Nuclear Society Publications Catalog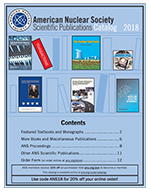 The newly updated Publications Catalog contains a comprehensive list of publications available from the American Nuclear Society. The textbooks, monographs, handbooks, proceedings, standards—they're all here—are informative and insightful publications that cover topics ranging from introductions to nuclear engineering and technology to the practical applications of nuclear in outer space.
The advantages of this catalog are many. First, it is an all-inclusive resource for ANS publications, making searches across categories quick and easy. Next, each title has been linked to its page on the ANS store, meaning that if you want more information, it's right at your fingertips. Finally, the catalog will occasionally include great deals that can only be found within its pages.
Keep your eyes on this page, as it will be updated frequently with new publications, new deals, and more features in the future.
Last modified July 30, 2018, 10:34am CDT