Alpha Nu Sigma
National Honor Society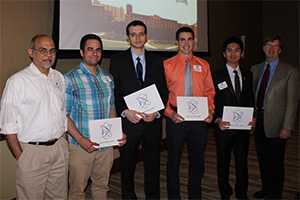 University of Illinois at Urbana-Champaign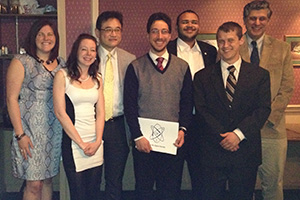 Purdue University
The Alpha Nu Sigma National Honor Society (ANSNHS) was established to recognize high scholarship, integrity, and potential achievement among outstanding degree-seeking nuclear engineering students at institutions of higher learning.
Society membership is HIGHLY SELECTIVE – only the top quarter of Juniors and the top third of Seniors in their peer group qualify as candidates for membership.
Membership is a prestigious lifetime honor.
Distinguished Faculty Membership may be awarded to outstanding nuclear engineering educators.
Honorary Membership may be awarded to individuals who make exemplary contributions in the field.
Structure and Administration
ANSNHS was established in 1979 by the American Nuclear Society, as proposed by the Education, Training, and Workforce Development Division (ETWDD).
National Officers, appointed by ETWDD's Board of Directors, administer the affairs of the Society in accordance with the Constitution.
Only those institutions having a Student Section of the American Nuclear Society are considered for the granting of a Local Chapter of the Alpha Nu Sigma National Honor Society.
Faculty Advisors must be familiar with and perform their duties in accordance with the ANSNHS Constitution. Faculty Advisors assist their Local Chapters as needed, including in the process of identifying qualified candidates for membership and submitting candidate information to the National Secretary for consideration for membership.
Inquiries regarding ANSNHS may be addressed to the Secretary.
New Member Induction Process
Approval of new candidates for membership is done at the National Officers level, in accordance with the Constitution. All three of the following steps must be completed before a candidate becomes an official member of ANSHS:
Faculty Advisors at Local Chapters determine which students meet the criteria established in the Constitution and extend an invitation to apply for membership.
Faculty Advisors then submit the Candidate Information for New Members form and the Certificate, Pin, and Honor Cord Order form to the Secretary . Purchase of a Certificate is mandatory. Pin and Honor cord purchases are optional.
Upon candidate approval by National Officers, a Certificate is issued and transmitted to the Faculty Advisor by the Secretary. An induction ceremony organized at the university level may then be performed.
New Local Chapter Petitions | Honorary and Distinguished Faculty Membership
Petitions for new Local Chapters, and Honorary and Distinguished Faculty Membership may be submitted to the Secretary for consideration by the National Officers. Local Chapter Roster – Honorary Members Roster – Distinguished Faculty Members Roster
Member Identification
ANSHS members may be recognized at ANS events and in public by the Society lapel pin. Purchasing a pin is not required, but is encouraged by all members, old and new. Wear it proudly!
Forms
Last modified April 19, 2016, 3:49pm CDT